The beauty of having no destination is that there is no possibility of getting lost. Wherever you go, there you are. I got a second wind this afternoon and after dressing in the baggiest, most conservative clothing I brought, I ventured out.
I'd say I got lost, but like I said, I didn't really know where I was going to begin with. I kept passing a tourist here and there, so I knew I couldn't be far off from my unknown destination. I felt safe, though kept referring to my phone's interactive map with it still in my bag just as a precaution. (I had searched my hotel room high and low for my pepper spray but I seem to have misplaced it somewhere. Oh well, it wasn't needed.)
After about 45 minutes, I stumbled upon Wat Chedi Luang, a Buddhist temple dating back to 1475.
It was partially destroyed by an earthquake in 1545 and soon after, Chiang Mai fell to the Burmese. The wat was never rebuilt. So obviously no one can go inside, but they built a new temple in front of it:
Believe me when I say this place is gigantic.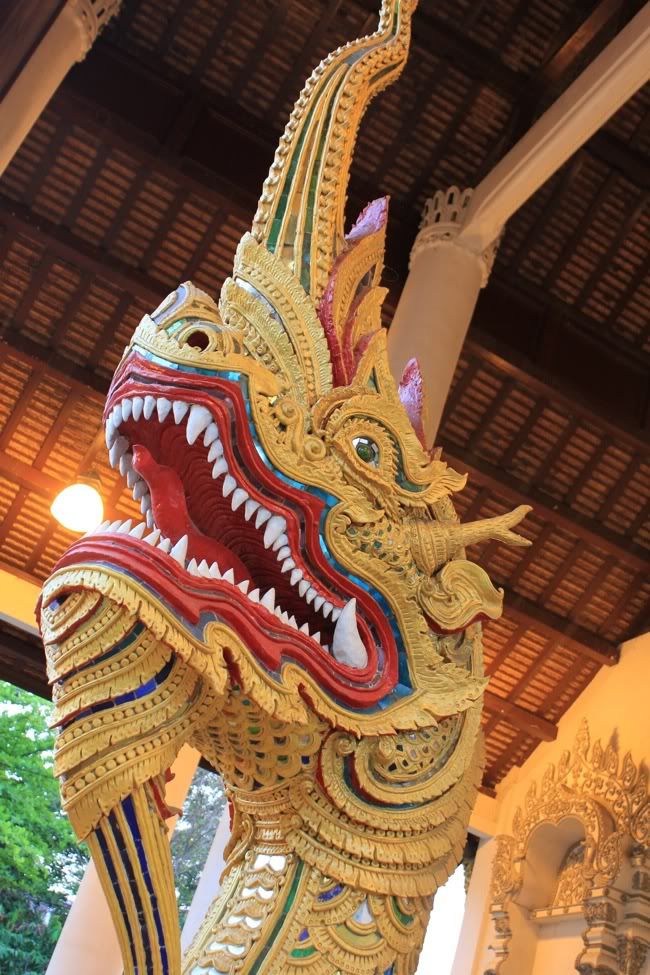 The temple is guarded by these huge dragons, or, nagas. Their purpose is to protect the Buddha and the temple's belongings and to ward off evil.
In Thai culture, the feet are considered the dirtiest part of the body (and the head is the holiest). As a sign of respect, you are to remove your shoes before entering.
Behold-the insides of the most gorgeous temple. You can see the monks sat closest to the front. Then behind are the tourists. How gorgeous, right? It smelled wonderful too- incense.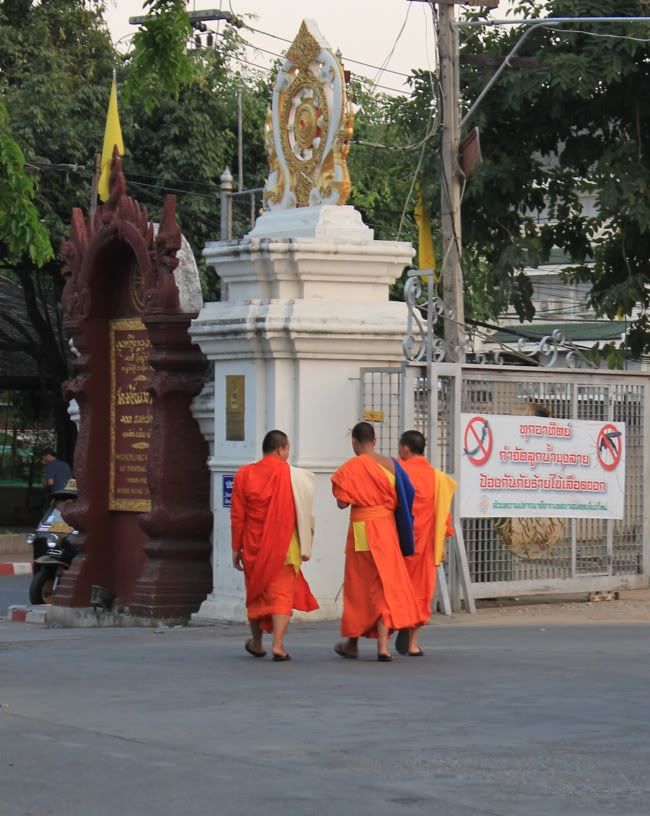 Outside I found older monks,
younger monks (and stray dogs)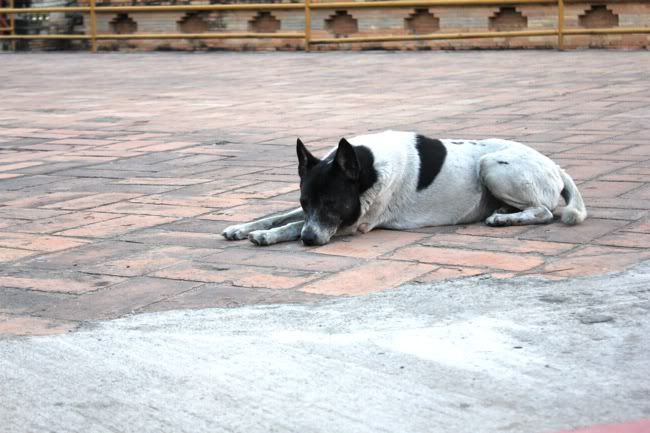 and more stray dogs. :(
(Side note on monks: It is considered extremely respectable to be a monk. Some men are monks for 30 days, some for longer. It gives you and your family religious merit. Anyone that helps out a monk (either buying their clothing, or donating to them when they come by before dawn to ask for donated food) will all get religious merit. Some men who commit petty crimes can avoid jail time by being a monk.)
Satisfied that I had found my destination, I hailed a tuk tuk, negotiated a price (by "negotiate" I mean I accepted his first request of 100 baht (about $3), which is what the ladies at my hotel said I should expect to pay), and jumped in. It wasn't the safest ride of my life- I feel like Thai roads have no real rules. I mean people are whizzing by on their mopeds with two kids under six years old and two adults. I'm not kidding, either! Plus, they drive on the opposite side of the road as the US and Europe so that kind of threw me. But whatever, I made it home in 5 minutes and now I'm in for the night.