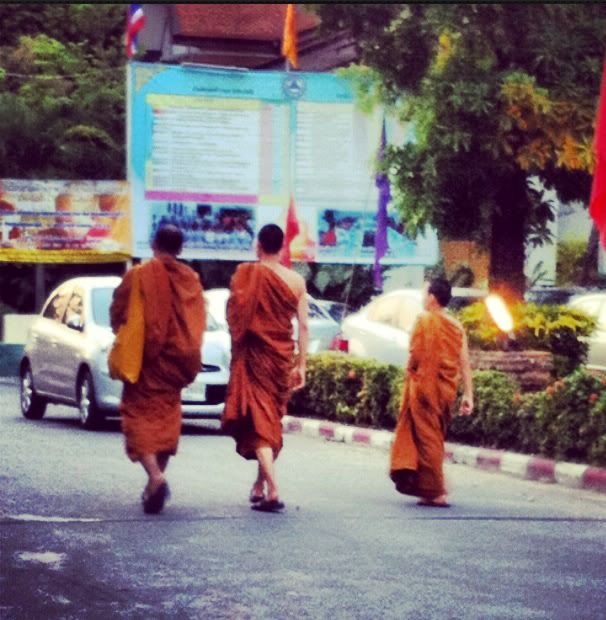 In an effort to stay authentic and honest, I'd like to talk openly about my experience so far. I've received a lot of encouragement and support from twitter and instagram followers, which I very much appreciate, but I wonder if maybe I'm being a bit misleading.
I'm really grateful for the opportunity to be here. I am so thankful and lucky to have a supportive husband and family who understand that I really needed to come here. I say "needed" because I've had a really tough year with lyme disease that kept me pretty confined to my house (at one point I couldn't leave the house for 11 days straight) and now that I'm getting back on my feet health wise, I felt like this would be the perfect balance of adventure (traveling to Thailand) and calm (yoga experience).
There have been some great moments this past week: studying by the pool accompanied by a lone lizard, soaking up the warmth that my joints so desperately needed; having my first pad thai and pad pat luang jai; being in one of the most famous Buddhist temples and meditating behind monks...
But sometimes I read solo travel blogs like
Johnny Vagabond
or
Adventurous Kate
and wonder how these people truly enjoy solo travel because so far, if I'm being totally honest, it has been kind of a rough go for me. Maybe I'm out of practice (it's been exactly twelve years since my last extended period solo trip), or maybe I'm just emotionally and physically weak from
my tough year with lyme
. Or maybe it's just not in my nature to be gung ho about being alone in a strange place.
Not that Thailand is "strange". On the contrary- it is beautiful, with the kindest people, most delicious food and breathtaking temples. But it's certainly no Europe, where I can easily blend in to the background. I don't look Asian and I don't speak Thai, so when I venture away from my hotel (which, admittedly, hasn't been often), I feel...uncomfortable. Not like I'm in any danger, but just out of place. In the crowded, chaotic streets, I feel like I stick out, which makes my guard go up and my heart race. Venturing off the hotel grounds is not the eat, pray, love experience I had imagined.
Even staying on the hotel grounds is tough for me mentally because I don't have anyone to talk with in person. Maybe that's my own fault. Maybe instead of a boutique hotel I should've booked a guest house where there's a high turnover rate of backpackers. Due to the six hour time change from Germany and twelve hour time change from my family in the states, for the majority of my days in Thailand I don't have anyone to text/skype with. So I end up reading (which is wonderful), blogging (which I love), and thinking-which sometimes makes me a little crazy because I over-think, and worry about anything and everything.
Of course, tomorrow I move from my hotel to the yoga shala in the mountains where I'll start the teacher training and my days will be scheduled and I'll have a group of English speaking, like-minded people with whom I can relate, and I won't feel so lonesome and conflicted. But I just wanted to set the record straight because people have said, "I envy you" and "I'm living vicariously through you!" and I want to be clear- while overall it's been a positive experience, it hasn't exactly been rainbows and unicorns. Maybe it will be baby tigers though, because I'm thinking about forcing myself up off this bed and out to the tiger sanctuary where you can play with the beasts.