Today our lecture was about the yamas. Yamas are moral attitudes that you can take on and off the yoga mat. There are five: ahimsa- non-violence (or practicing sensitivity), satya- truth (or practicing your own honesty), asteya- non-stealing (or practicing openness), bramacharia- conserving energy (or practicing presence) and aparigrapha- non attachment (or practicing generosity).
We talked about how far you can take each yama into your life. For example, ahimsa (non-violence/sensitivity) can be taken literally- like sure, you shouldn't be aggressive towards anyone including yourself. But it can also be taken deeper. We talked about food choices. For me, drinking is a huge one. Because I'm on so many antibiotics for lyme disease, I haven't had a drink in 10 months. To be honest, I don't miss it at all. Even on New Year's Eve I didn't miss it. For me, in the last few years, I've struggled with the idea of drinking because I feel like it is a waste. I struggled with feeling guilty because it seemed like a waste of calories and a waste of energy (I'd feel tired/buzzed/hungover). But today we talked about how alcohol and smoking really are poisons, as they alter your consciousness. Like you can't stay present when you're drinking, which directly conflicts with the yama bramacharia. So, anyway, it was kind of nice to hash it all out. That's not to
say I won't ever have a drink again, or that I'm trying to suggest anyone else not drink- but that's what works for me.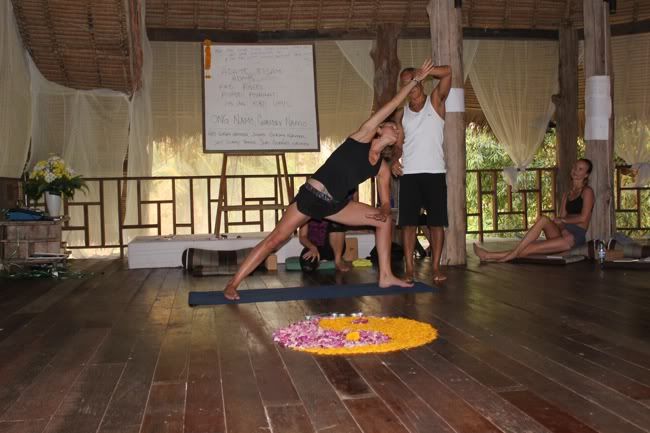 In other news- a girl found a cockroach in her bathroom last night. She's this sweet girl from Italy who has an Australian boyfriend so her accent when speaking English is really unique, and she was so funny describing the cockroach running back and forth across the floor. Sooo cockroaches. No cockroaches in my room (yet!) but I had a mosquito stuck in my mosquito net last night, which was a huge pain in the ass to get rid of.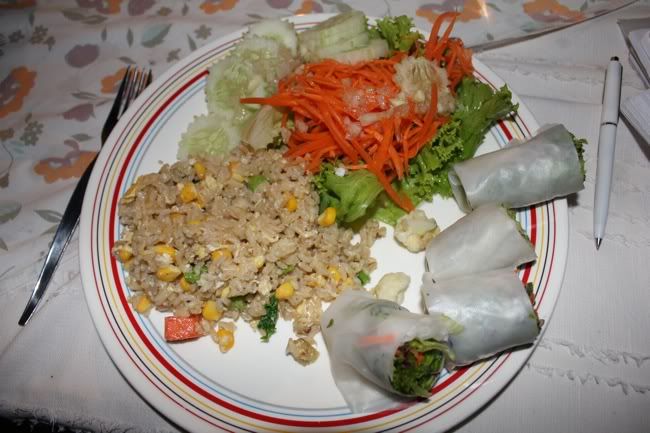 (Here's dinner- actually best meal I've had since I got here)
Other than the critters, the other disappointment is the food. I am used to eating a huge breakfast right when I wake up of about 3-4 eggs and granola with yogurt. Then I do my work out, and eat pretty much every two hours until it's time for bed. Here, we have three meals only, and breakfast comes four hours after we get up. Then there's lunch at 1:30 and dinner at 7. These meals are vegetarian, which I'm used to, and they're delicious but they're so light that after an hour I'm starving again. Yesterday I had an awful day that may or may not have included a huge meltdown. Now that I think about it, my meltdown was probably largely due to the fact that I was so freaking hungry. I did manage to get to the 7/11 down the road the other day, but by "road" I mean highway and by "get to" I mean I had to walk on the highway, sooo….
Apart from the critters and the lack of food, though, the training is going really well. I find the lectures for the most part really interesting, and the asana practices are going well. The teaching practice has been the most challenging for me, as it's REALLY a mouthful to explain how to do each posture and you don't want to leave your students in a posture forever while you're trying to grapple for the right words!
But overall, it's been a very positive experience, and tomorrow is our first test. Eeek! Three more weeks to go….