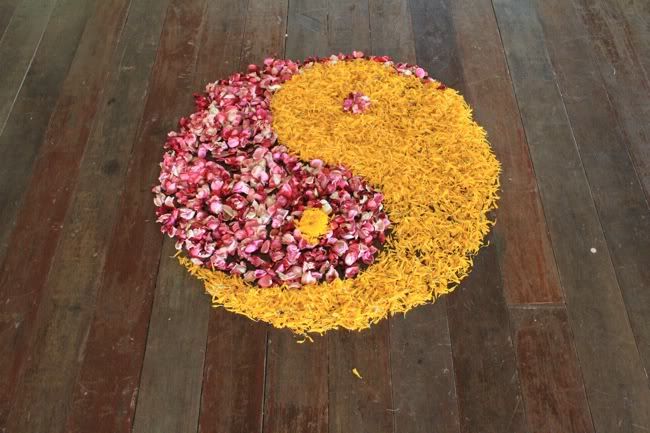 Flowers in the shala
I slept better last night than the night before. 11pm-550am. Felt rested, despite waking up at 4am to my a/c making this grating noise again.
615-7 mediation
7-8 pranayama class. Today we learned a breathing technique involving holding in the breath. We also practiced kapalabahti breathing.
8-10 asana class. Today was a better asana for me because my wrists weren't as bad as yesterday. We focused specifically on primary series B with emphasis on breaking down warrior one. I wasn't starving by the end of the class because when I woke up, I had some corn flakes that I bought yesterday at 7/11.
10-11 silent breakfast. Breakfast wasn't as good today as yesterday. It was hard boiled eggs and plain yogurt which obviously left a lot to be desired.
11-1 lecture. Today's lecture was on kriyas (purification techniques). I had had anxiety all morning about having to do the neti pot. Sorry, but I'm not one to voluntarily put water up one nostril and let it drip out the other. Then my mom sent me an email saying I definitely shouldn't do it, as two people died last year in the states from a brain-eating ameba they caught from the water in their neti pot. Well, I was assured the water we were using was drinking water and I figured I could suck it up and at least try it. I did a few drips in each nostril but I don't think I'll be doing it again…and there will be a second time…and third..and fourth, because we are going to do it every morning before meditation class for the rest of the month.
We also talked about breatharians (people who survive on nothing but sun gazing, water and air). Apparently our teachers have met this guy who has been a breatharian for 15 years. Obviously he doesn't lead a 'normal' life with a job, wife, kids, etc. He does nothing but meditation, yoga, and sun gazing. He is not very lucid, they said, which isn't surprising. But I guess that done in an ashram under guidance of a guru there is no physical harm in being a breatharian.
1:30-3:30 lunch (pumpkin, carrot and onion in yellow curry with brown rice)
3:30-5 methods class. Talked about foundations, how to set asanas, and adjustments (see pics below). We talked about various ways to adjust and assist people, and how to talk them through the breathing.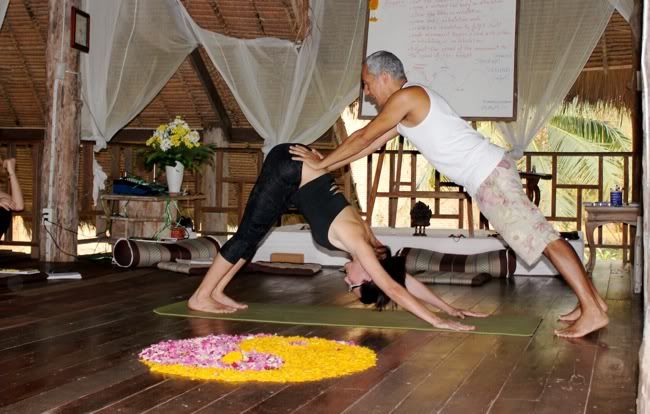 5-630 teaching practice. Lead people through vinyasa flow and adjusted them as needed. It is just a mouthful to say all the little steps when teaching- not at all relaxing!!
Here's a little friend I found outside my room:
So apart from the accommodation, I feel really great here. It is surprising because I feel like the meals are so light that I'm hungry an hour after eating. That being said, I can't believe the amount of energy I have. I've been up since 5:50 this morning and have sat through something like a total of 9 hours of class in 99 degree heat, but I don't feel lethargic or weak at all. Must be the meditation and pranayama class helping with that. Pretty cool.
I am looking forward to our day off on Saturday. The days go by so fast, and I feel like there's a lot of information being given to us, so it will be nice to have a day to relax and absorb the program so far.